Swarthmore College
Class Of 1973
In Memory
Hugh Cort VIEW PROFILE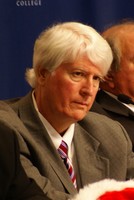 Hugh Cort III
From the Tuscaloosa News, August 5, 2016
TUSCALOOSA - Dr. Hugh Cort, III was called home to Heaven on August 3, 2016. He had told many friends he was looking forward to being in Heaven with his beautiful wife, Debbie, his wonderful Mom and Dad and many other beloved saints.
Hugh always reminded everyone that St. Paul called all the followers of Jesus ""saints"". You don't have to be perfect to be a saint, just forgiven. Hugh also always told everyone Jesus said ""Whoever believes in Me shall never die, but will have life eternally."" Hugh told everyone if they ask Jesus to be their Savior, they will go to Heaven and that is the most important decision they will ever make.
Hugh was very thankful God used him to help others in a variety of jobs. He started out as a psychiatric aide at the Georgia Mental Health Institute in Atlanta helping kids with mental illness. He later got a Master's Degree in Social Work and worked as a counselor at mental health centers and other places including working with Travelers Aid in the Atlanta bus station for two years. Then he went to medical school and became a doctor. He worked as a psychiatrist at Brookwood Medical Center and the Tuscaloosa VA Medical Center. Hugh loved most everything about the VA, especially the staff and especially the Veterans!
Along the way Hugh had a great year as a USPTA certified tennis pro, and he was also very proud to have been a teammate on the University of Alabama's club soccer team with a young man from Honduras named Armando Betancourt. Armando transferred the next year to Indiana where he won the Hermann Trophy. Hugh also had a lot of fun being an elementary school P.E. coach at Highlands Day School, where the kids called him ""Coach Hugh"".
Hugh felt very blessed to be a Gideon, and to have the joy of giving out Bibles with his beloved Gideon brothers.
His greatest joy in life was, and is, his friendship with Jesus and his beloved friends and family. Hugh always said he was so blessed to have such great friends and those included his cousin Chris in Kentucky and his old high school buddy Mike and all his church group friends and basically everyone he met. He wanted everyone to know that he will be praying for them from Heaven, and that ""He and the Lord will be watching over you to protect and bless you, until we meet again!""
(Note: Hugh pre-wrote the above in February of 2014, when he was in Pittsburgh awaiting a double lung transplant with his great friend, Laurice Tatum, who was with him through the entire journey from UAB to Duke to UPMC and then back to Alabama.)
Before Hugh was a social worker, he once had a job taking inner-city boys from Atlanta up to North Georgia to camp. He interviewed for the job with Rev. Fred Shuttlesworth and another man who ran the program named Norm Kaufman. At the end of the interview when he got the job, Rev. Shuttlesworth said to Hugh ""Well, there is something good that can come out of Birmingham, Alabama!""
This writer would like to tell all persons who have lost a loved one and have made the decision to have their organs donated, how much it means to the families of those receiving the organs. Words cannot express the blessings these last two and a half years have been to our family. The kindness and wonderfulness of human nature has been shown by so many people in so many different places.
1. The kindness of the anonymous donor and their family (by their choice) in Pennsylvania.
2. The kindness of the Tuscaloosa VA nurses and doctors who donated so many annual leave days to Hugh.
3. The kindness of countless staff at U.A.B, Duke, and UPMC.
4. The kindness of the wonderful residents and staff at Crimson Village including the director Mr. Tim Hicks and Renee Mott. I'm sure in Heaven he is remembering all the great times he had especially singing ""I'll Fly Away"" with Mrs. Louise riding up the elevator and the great conversations at the dinner table.
5. The kindness of all prayers offered.
6. The kindness of anyone who helped Hugh and I know there were many.
Hugh asked that his funeral be considered a Celebration of Life service. He asked me to open up the floor to everyone in the audience saying ""Hugh told me to ask each person who wants to, to come up and say what they remembered about Hugh."" There will be a service on Saturday, August 6, 2016, at the Tuscaloosa Memorial Chapel at 1:00 p.m. with visitation starting at 12:30 p.m. The burial will follow at Pond House Cemetery which is located in Pell City at 4:00 p.m. with Usrey Funeral Home directing.
Since Hugh lived a lot of his life in Birmingham and Atlanta, Ga. while not exactly half-way between the two, Pell City could metaphorically represent that. He certainly had some relaxing and great times at Pond House. ""And Hugh's spirit will be celebrating in Heaven!"" That's what he wanted people to know.
Survivors include four nephews, Sidney Webster, Casey Langford, Luke Jones and Keegan Cort; three nieces, Kaylee Cort, Caroline Cort and Belle Cort; a sister, Meredith Jones (Greg); and a brother, Charles Cort (Nikki). Other survivors include two aunts, many cousins and friends far and wide.

Click here to see Hugh's last Profile entry.